our 2nd highest grade of fresh uni, packed in a wood tray
Pick up by next business day*

All orders are automatically packed based on the schedule below, and you must pick up the order by the latest pickup time. We can't take pre-orders or change your pickup to a future date. Please note we're closed on Sat & Sun.

Do I HAVE TO PICK UP MY ORDER BY THE LATEST PICK UP DATE?
Yes. Please pick up your order on time and before the latest pick up time using the chart above.
CAN I SET A SPECIFIC PICK UP-DATE OR PLACE A SPECIAL ORDER FOR FRESH UNI AHEAD OF TIME?
No. Unfortunately, uni harvesting is influenced by bad weather and scarcity. Our website tracks live inventory and we only pack to order. Once the uni is out of stock on our website, we are sold out until the next weekly batch. Check out our website often since we typically update inventory on Sundays.
DO YOU OFFER SAME DAY PICK UPS?
Yes, if your order is placed before our 6am PST cut off time. During the major holidays, please call us for our hours.
DO YOU PACK YOUR ODERS WITH ICE?
Orders over $50 are packed with ice packs and a free cooler bag.
Orders under $50 are packed with ice packs and a plastic bag. Please bring your own cooler if you're traveling for an extended period of time.
CAN SOMEONE ELSE PICK UP MY ORDER?
Yes. Please reach out to us with your order number and let us know who is picking your order up.
the small and large wooden trays of uni aren't shippable

please shop our other fresh and frozen uni products instead

the small and large wooden trays of uni aren't shippable

please shop our other fresh and frozen uni products instead

wild red sea urchin in Santa Barbara is typically larger and sweeter than the prized bafun uni in Japan.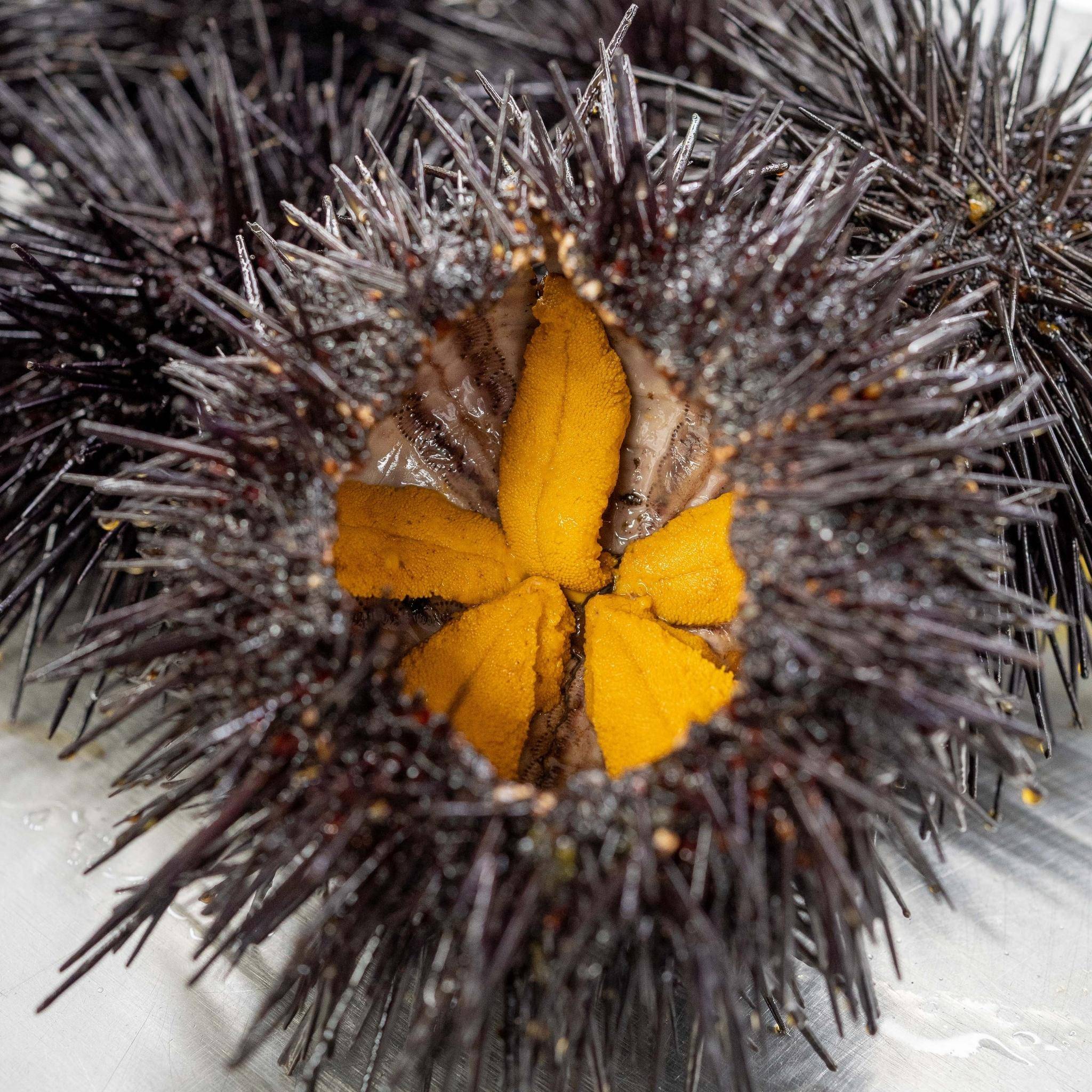 diver's harvest the live red sea urchin. our refrigerated trucks deliver the live urchins to our factory.

instead of sitting on a shelf, our team cracks live sea urchin fresh to each new order.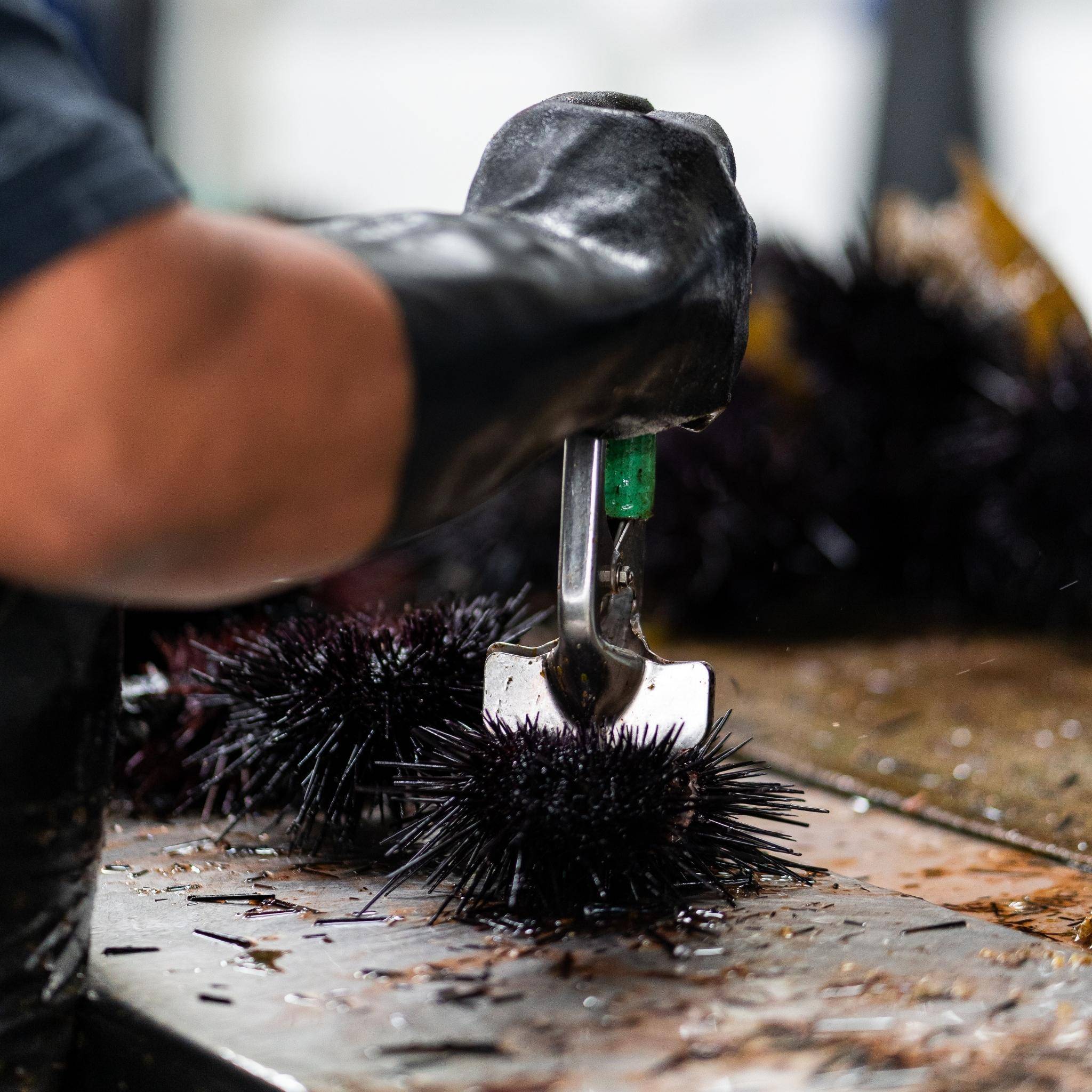 we only sell the best grades on our website. 1000 pounds of sea urchin only yields about 5 trays of premium uni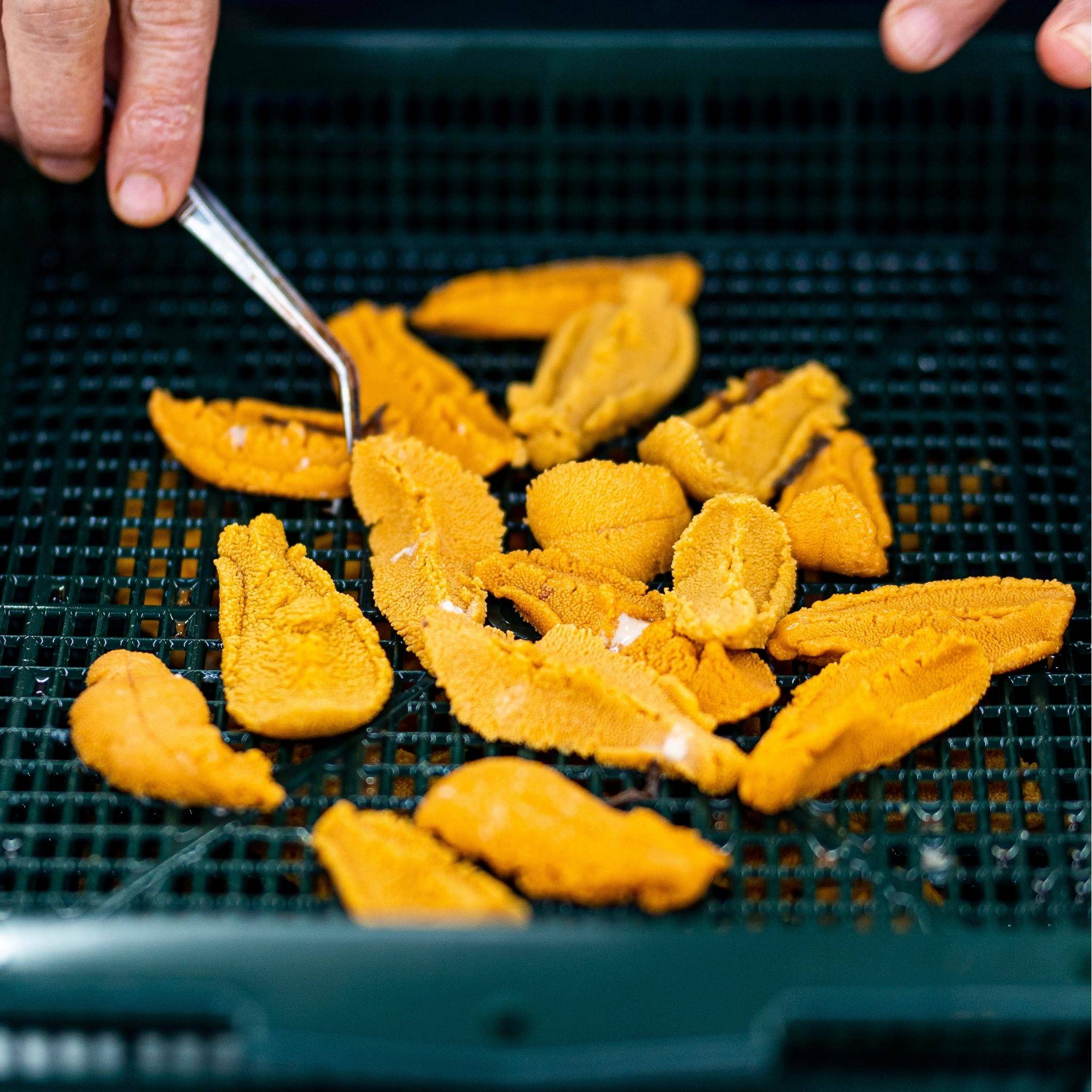 unmatched freshness by shipping out your order on the same day it's processed, since 1975.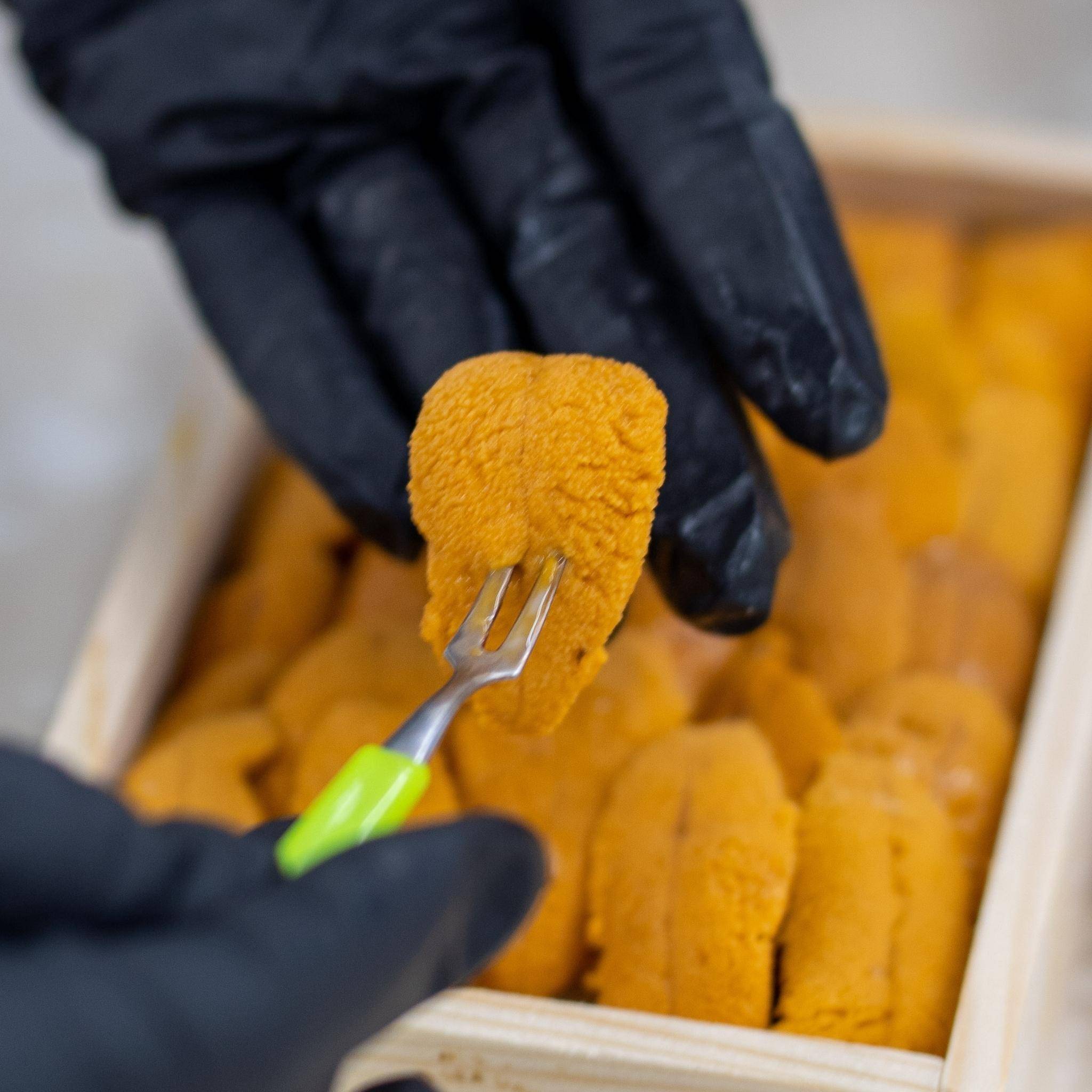 Our 2nd highest grade of uni which exceeds expectations for uni enthusiasts.

• Type: Santa Barbara, wild-caught red sea urchin. Fresh, not frozen.

• Grade: A+ (2nd Highest), Sashimi Grade

• Packaging: Small wooden tray.

• Net Weight: 50g / 1.7oz (approximately)

• Fresh uni sells out quickly - please check back often or shop our frozen uni products.

• Pick up in Long Beach, CA only. Not available for shipping.

Trusted By Michelin Chefs
cracked, packed, and shipped same day

Our factory is the premier Santa Barbara uni supplier to Michelin chefs, restaurants, smaller distributors, and home chefs.

Most of the uni you will find in the U.S. isn't fresh because the product sits on a shelf for a long time. Additionally, the uni can pass through multiple retailers before you consume it, resulting in a fishy taste. Only fresh sea urchin retains its ideal sweet flavor, color, and buttery texture.

Our expert divers harvest the wild sea urchins and bring them to our facility. We start by cracking the sea urchins early in the morning. Maruhide's masters carefully select the best uni, pack to order, and ship on the same day it's processed.

We're passionate about serving you the best uni the ocean offers. Check out our episode on Eater below.

DIFFERENCES BETWEEN FRESH UNI PRODUCTS
What are the differences between the two uni grades?
We sell two grades of uni on our website and they differ in how they're packaged.

Note: the wooden trays can't be shipped and are only available for pick up in Long Beach, CA.
| | | | |
| --- | --- | --- | --- |
| Grade | Packaging | Level | Shippable |
| | | | No, pick up in Long Beach only |
| | | | |
| | | | |
| | | | No, pick up in Long Beach only |
| | | | |
Our highest grade and normally used in Michelin restaurants. 1000 pounds of sea urchin only yields about 5 wooden trays of premium uni.

Large Wooden Tray
Typically used by sushi chefs and those who want a beautiful presentation with the wooden tray.

Metal Tray
We pack the sturdy uni in the metal trays, which hold up better in transportation.

Exceeds expectations for uni lovers and found in fine sushi restaurants. Our A+ grade typically grades out to our competitor's premium grade.

5 Pocket, Small Wooden, & Saltwater Trays
All 3 packaging types use the same quality of uni. However, the saltwater tray is recommended for orders requiring shipping because the water solution protects the uni. All 3 are available for pick up in Long Beach, CA.

---
Grading is mainly based on color, firmness, and size. Most companies, including Maruhide, have their in-house uni grader. Our expert grader is a master and only selects the best uni for our e-commerce websites. We only sell two types of grades on our website: A+ and Premium, while the rest go to our wholesale accounts.
PORTION SIZES, SERVING, & RECIPES
As a garnish, 1/2 oz to 1oz and as a main dish, 1oz to 2oz. If you're using caviar on top of sushi, 1/2 oz is sufficient.

---
Our sashimi-grade uni can be consumed raw and can be enjoyed many ways. We recommend smaller uni portions with other ingredients like A5 wagyu, ikura, and caviar.
We recommend pairing uni with sushi rice - the high acidity in the sushi vinegar and the texture of the rice balance out the richness. Sushi rice is relatively easy to make, but the prep takes some time to make the vinegar. Once you add the sushi vinegar to the hot rice, you can create many dishes with sushi rice.

Tip: brush on nikiri (sweet soy sauce reduction) over your uni to tie in the dish - perfect for new uni eaters.
Rice bowls are one of the easiest dishes to make. Make your sushi vinegar ahead of time and make the sushi rice before serving. Our A5 wagyu, ikura, and caviar allow you to make exceptional dishes you'd typically find at fine restaurants. Simply add the ingredients together.
Uni nigiri is an amazing way to enjoy sushi at home with your other ingredients, like wagyu beef. Cutting wagyu nigiri requires knife skills, but you can make nigiri with any combinations of: sushi rice, uni, A5 wagyu, ikura, caviar, and nikiri sauce.
Uni pasta is a delicious, easy, and luxurious dish you can make at home to impress your loved ones. This dish is perfect if you have uni leftovers or if you couldn't eat your uni right away.
Please transfer the uni to the refrigerator immediately when the package comes. Keep refrigerated, follow food safety, and consume as soon as possible to enjoy the freshness.

Fresh Uni is best by 1 week from the ship date.

Uni Shutou lasts about 10 days in the refrigerator and about 3 months in the freezer.
---
Can I freeze my fresh uni?
No. Once uni is frozen and thawed, the uni flesh may be mushy.
Why is the fresh uni out of stock and when do you restock?
Uni harvesting is influenced by bad weather, and we may experience a uni shortage due to high demand. We have meticulous standards for quality - 1000lb of sea urchin will only yield about 5 wooden trays of Premium Uni.

Please check back weekly to order when we have fresh uni. We typically update our fresh uni inventory on Sundays. Alternatively, you can always purchase our popular frozen Uni Shutou.
Can I pre-order fresh uni at a specific date?
No. Unfortunately, we don't take special orders for uni on specific dates. Our website tracks live inventory and updates with each order. We typically have a small supply of fresh uni, and we typically sell out fast.